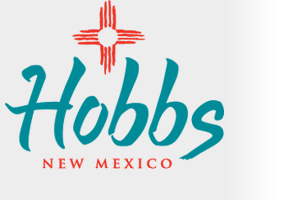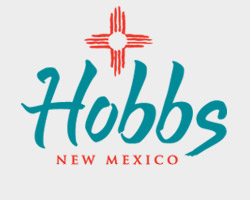 Veteran's Memorial Complex
Veteran's Memorial Complex

Where is Hobbs?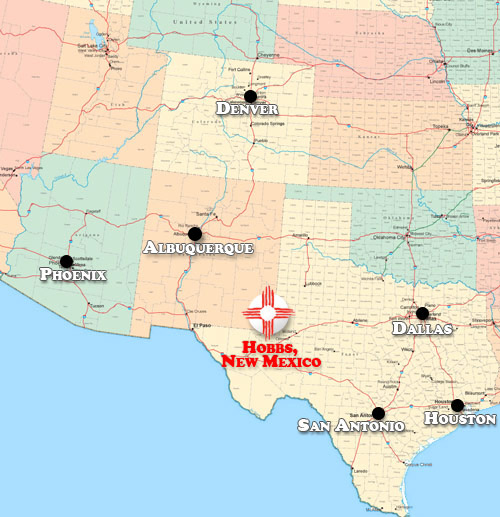 Attractions Near Hobbs, NM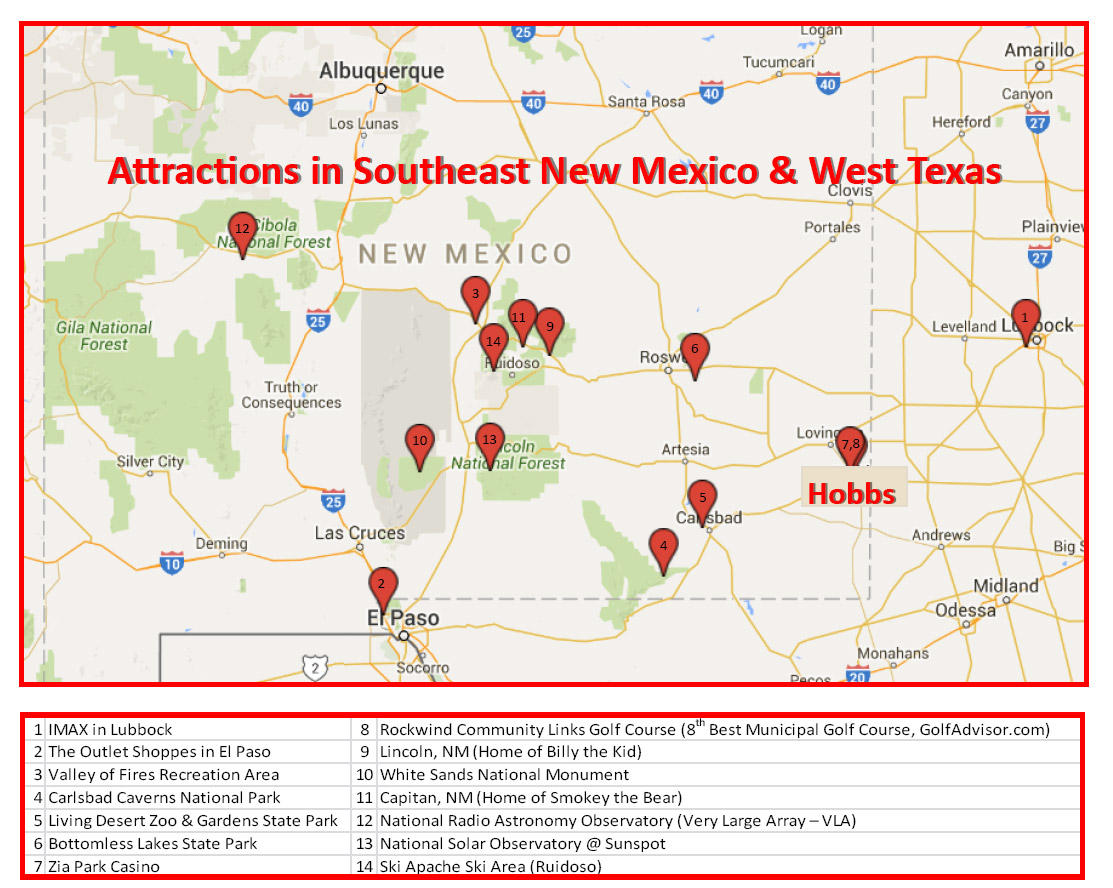 Hobbs Restaurants & Accomodations
Skip to Accomodations »
Restaurants
| Full Service | Fast Food |
| --- | --- |
| Applebees | Arby's |
| Babe's Sports Page | Big Cheese Pizza |
| Bovine & Swines BBQ | Burger Builders |
| Buffalo Wild Wings | Burger King |
| Cattle Baron | Casey's |
| Centennial Steakhouse at Zia Park Casino | Dairy Queen |
| Chili's | Der Wienerschnitzel |
| Denny's | Dickey's BBQ |
| Dragon China Buffet | Dominos Pizza |
| El Fogon Mexican Food | Grandy's |
| Furr's Family Buffet | Kentucky Fried Chicken |
| Gator J's | Jimmy John's |
| Holidaze | Little Caesar's Pizza |
| IHOP | Long John Silver's/A & W |
| Iron Skillet | Ma Brown's Burgers |
| LaFiesta | McDonalds (three locations) |
| La Michoacana | Papa John's Pizza |
| Pacific Rim Restaurant | Quizno's |
| Pizza Inn | Rosa's Cafe & Tortilla Factory |
| Pizza Hut | Schlotzsky's Deli |
| Ranchers Steakhouse & Buffet | Sonic Drive-In (two locations) |
| Rockwind Grill at Rockwind Community Links | Starbucks |
| Saturday's | Subway (three locations) |
| Saxony Room at Hobbs Family Inn | Taco Bell (two locations) |
| Tia Juana's Mexican Grille & Cantina | Taco Villa |
| Tokyo Japanese Steak House & Sushi Bar | Wendy's |
Lodging/Accomodations
Baymont Inn & Suites
Best Western Executive Inn
Budget Inn
Comfort Suites
Country Inn and Suites
Days Inn
Desert Hills Motel
Econo Lodge
Fairfield Inn & Suites
Hampton Inn & Suites
Hilton Garden Inn
Hobbs Family Inn
Holiday Inn Express & Suites
La Quinta Inn & Suites
Lamplighter Motel
Lea County Inn
Quality Inn and Suites
Sands Motel
Shale Lodge Hobbs
Sleep Inn and Suites
TownePlace Suites
Value Place
Zia Park Casino Hotel Racetrack
Back up to Restaurants »
Airports in Hobbs & West Texas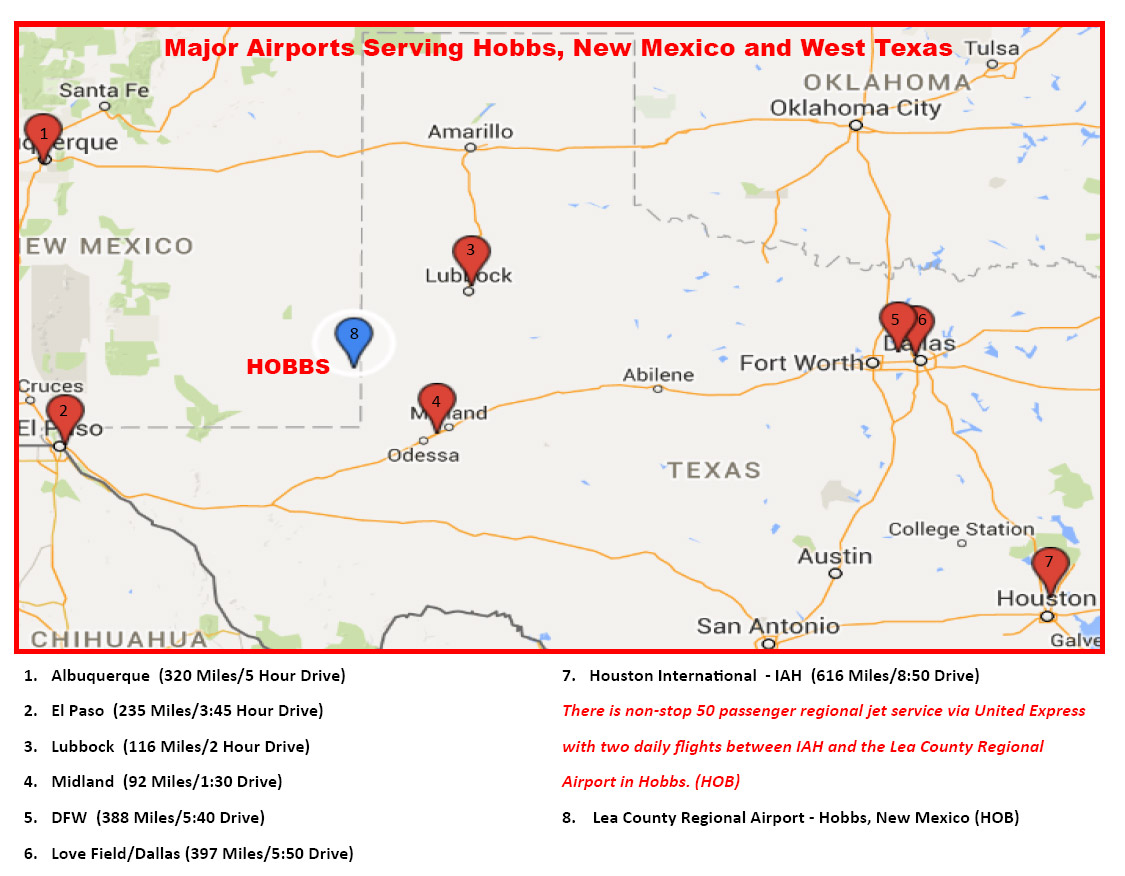 Weather in Hobbs
[Click to enlarge]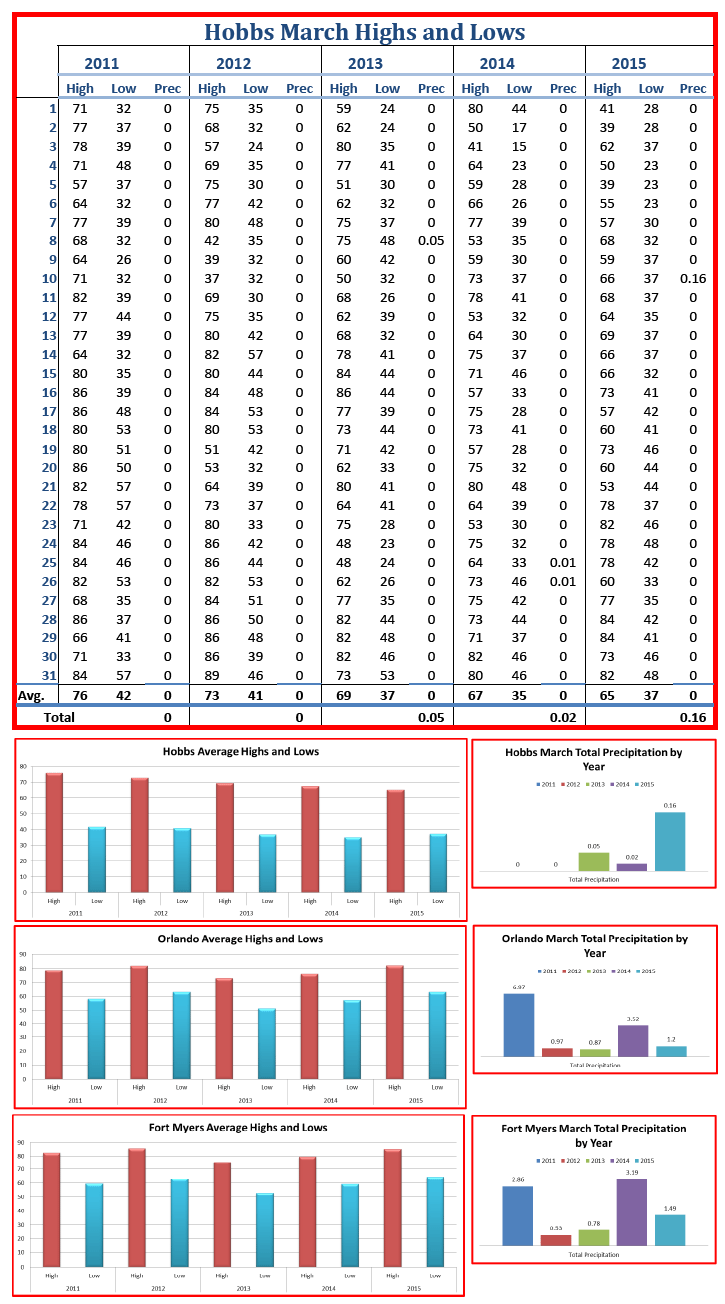 [Click to enlarge]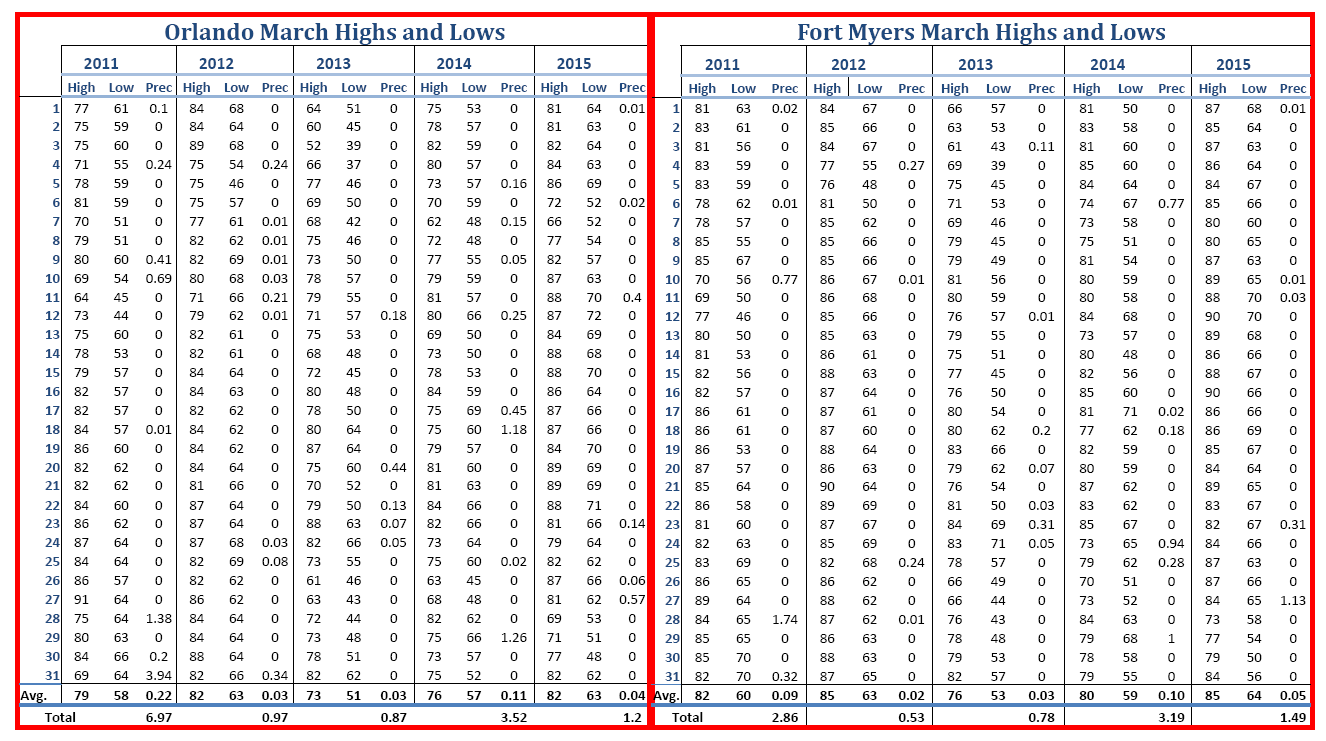 [Back to Top]
Hobbs and the History of Southeast New Mexico and the Llano Estacado
Hobbs is the gateway to New Mexico - the Land of Enchantment. Hobbs is the largest municipality in Lea County, the southeastern-most county of New Mexico's 33 counties, and situated on the far western edge of the Llano Estacado. Like much of southern New Mexico, the Hobbs area represents the best of the 'high desert,' with its blue skies and warm sunshine. The Hobbs area exhibits a truly multicultural heritage: Native American legacy, cowboy legend, farming traditions and Hispanic culture. With their agricultural roots and pioneer spirits, Lea County residents are surrounded by folklore and Western mythology, all enshrined in its museums and libraries. Amateur archaeologists can still find arrowheads left behind by the native people, including the Comanche and Apache Indians, who once ruled over these vast plains.
Geology buffs can see fossils embedded in the nearby Caprock, evidence of the different levels of the ancient Permian Sea. Among the most distinct pieces of evidence of the eons of evolution that occurred here is the complete skeleton of a wooly mammoth in southern Lea County. Caving enthusiasts can enjoy one of the most magnificent underground caverns in the world, just a short drive away at Carlsbad Caverns. Working cowboys still roam the range, herding cattle and mending fences. Of course, the ever-present oil wells dot the horizon, reminding us of the rich black gold that helps provide many of the amenities we enjoy in Hobbs. As pump jacks slowly sway back and forth, kissing the ground and then the sky, their constant slow rhythm complements the solemn stillness of the otherwise uninterrupted landscape, which yields the rich booty buried below.
Not so long ago, thousands of buffalo roamed these vast grassy plains. Although many travelers passed through Lea County during the years when Europeans were exploring the New World, they were no match for the Native Americans who claimed the area as their own. From the Spanish conquerors of the 16th and 17th centuries, the Mexican rulers of the 18th century, to the Buffalo Soldiers of the post-Civil War era, to the fearless cowboys of the 19th century, all were daunted by the harsh landscape and by the skills and brilliant tactics of the native people who resisted the onslaught of these invaders. Fortunately, though, remnants of these former civilizations still remain in Lea County's museums, folklore and anthropological digs. Much of the land is still as wild and untamed as it was when the nomadic Comanche and Apaches called it home. Arrowheads and pottery shards still lie undisturbed just below the surface, a paradise for amateur archaeologists. In fact, North America's most ancient pre-historic human probably hunted bison and mammoth in and around Lea County at least 15,000 years ago. Both the Clovis Man and the Folsom Man left their spear points here.
About 250 million years ago, the Llano Estacado was submerged. Although the shallow, inland sea slowly evaporated, layer after layer of dead marine life slowly decayed underneath, resulting in huge oil and natural gas reserves that have made Lea County one of the richest centers of natural resources in the world. Later geological changes would add an even more important resource to the Llano Estacado: the Ogallala aquifer, a huge, underground lake of cold, pure water. Although the Native Americans cleverly hid this secret source of water for many years, eventually the stubborn determination of 18th Century pioneers led to the rediscovery of this essential source of life.
By the 1880s, Lea County had become a haven for cattle ranchers who settled near the scattered watering holes. They were quickly followed by the even more tenacious homesteaders, who learned that plentiful water existed just a few feet below ground; hence, ubiquitous windmills now dot the landscape. Many ranchers in the Hobbs area still depend on the simple power of these windmills to water their herds. While the never-ending procession of settlers brought stability and permanent encampments to the Llano Estacado, the Southwest remained a place of fiercely independent and self-sufficient people. In fact, New Mexico was not even admitted to statehood until 1912, making it the 47th state to join the Union and one of the last to relinquish its association with the Western frontier.
Lea County and its five rural municipalities have comprised a local economy based almost solely on petroleum for over eight decades. This area has thrived during prosperous booms and suffered during ruinous busts. An unflinching, entrepreneurial spirit has sustained generations of Lea County families, who have reliably delivered a cornerstone commodity to our nation. And getting oil and gas to market is no easy task; men and women toil outdoors in triple-digit heat, sub-zero cold, gale-force winds and other inclement weather. For these reasons and more, energy is our proud heritage.
Energy is also our future. That same entrepreneurial spirit that kept eyes fixed on the next boom is what fuels our vision for the future. Because energy is our workforce's core competency, we are developing a variety of fuel sources and, thus, diversifying our local economy. Lea County is home to the petroleum, nuclear and renewable industries. From assets to attitudes, no other region in America is more poised to develop the U.S. energy economy than Lea County, and that is why residents have embraced calling the county the EnergyPlex.
Today, Hobbs remains a retreat for those who crave a little elbow room and prefer the peaceful, wide open spaces reminiscent of bygone days. Lea County consistently and proudly reflects its pioneer spirit. While traditional occupations still thrive, such as farming, ranching and drilling, opportunities abound for the entrepreneur looking for a new beginning. Ideal weather, friendly neighbors and the affordable cost of living make this area a great place to live, play and work.
[Back to Top]
Community Profile
Hobbs (population 43,000) is the metropolitan center of Lea County and remains the focal point for the arts and education for southeastern New Mexico. Both of Lea County's schools of higher education are based in Hobbs. New Mexico Junior College is a modern, two-year academic and vocational college offering associate's degrees, including nursing and energy technology. The University of the Southwest is a four-year college focusing on liberal arts, with both bachelor of arts and bachelor of science degrees offered. The college now also offers master's degrees in selected categories.
Hobbs is home to the Lea County Event Center, which is the second-largest conference and convention center in the state of New Mexico. The center is a modern facility that can host large meetings and conferences, as well as indoor rodeos, tractor pulls, indoor soccer and monster truck events. This multi-purpose facility can seat 4,800 people theater-style in the main auditorium.
Hobbs is the headquarters for the Llano Estacada Art Association, a member of the Lea County Commission for the Arts. These two organizations display many forms of art, painting and sculpture in the Commission's Art Gallery, which is open to the public. The Southwest Symphony and the Hobbs Community Playhouse are but two of the many cultural activities that attract people from throughout the region.
The area's rich ranching history is captured in three exciting museums: the Western Heritage Museum and Cowboy Hall of Fame on the campus of New Mexico Junior College, the Thelma A. Webber Southwest Heritage Room on the University of the Southwest campus and the Lea County Museum in Lovington. The museums all focus on life and times on the Llano Estacado Plains.
For sports enthusiasts, Hobbs features one of the most popular and affordable public golf courses in a 500-mile radius. The challenging 27-hole Rockwind Community Links Golf Course was recently named as the 8th Best Municipal Golf Course in America in an article titled, 'Ten Best Municipal Golf Courses Not Named Bethpage, Torrey or Chambers', by GolfAdvisor.com. The Community Links vision is to attract both golfers and non-golfers to the course. Around the perimeter of the golf course property is one of the best shaded walking and jogging trails in the state. Adjacent to the property is McAdams Park which boasts a lake for fishing, a small RV Park, picnic shelters, a disc golf course and the headquarters of the Soaring Society of America.
Also adjacent to the golf course is the Lovington Highway Health Walk, a fully landscaped and lighted concrete jogging/walking path that is 4 miles long (one way). Other sporting amenities in Hobbs include numerous public parks, several health clubs, baseball/softball fields, swimming pools and splash pads and lighted tennis and basketball courts, ourse. In addition, the Martin Luther King Soccerplex includes eight soccer fields and a walking trail.
The quality of life and the development of amenities that bring good schools, successful businesses and recreational opportunities are on the forefront of the city's agenda. The retail business community is made up of large, national brand department stores and unique hometown shops. Make plans to stroll and experience the many shops found in Hobbs. Hobbs shopping is like no other. Enjoy small-town charm splashed with big-town selection, warm smiles and true southwestern hospitality.
Major local employers, like Lea Regional Medical Center and URENCO USA, attract bright minds and hard workers to the area.
For those businesses needing easy transportation access, Hobbs is serviced by United Airlines, with daily flights to and from Houston. In addition to our Lea County Regional Airport, the city of Hobbs is located only 90 minutes from either the Midland-Odessa Airport or the Lubbock Airport, with daily flights to and from your favorite destinations.
Those of you who have visited our state know of its mystic enchantment and its rich heritage and diverse cultures.
Hobbs sits only four miles from the Texas border. Our community economy is based on natural gas and oil, and for many years has been the cornerstone of New Mexico's extracted energy successes. Although natural gas and oil still drive some of our economic development, our newest industry is tourism, with the opening of a new casino and horse racing track. More than 2.7 million people have visited our community to enjoy the many unique and independently owned shops and services.
From well-known named restaurants to our brand of locally owned and operated kitchens and eating establishments, Hobbs is truly a dining delight'and with a mouth-watering menu. We are known for our 'Tex-Mex' foods, but you will also find traditional Mexican food restaurants with that south-of-the-border flair and fire.
Speaking of flares, at night our skies are lit up with the flares from the oil field, and sometimes, the light is so bright that night turns into day. This is an awesome sight and one you will not forget.
The real value of our community is its people. Some families have roots here dating to the 1800s, while others arrived just weeks or months ago. Because of its diversity, Hobbs is a great place to live, work or visit. Our history started in the late 1920s with the discovery of black gold and has matured into a modern and proactive city, with quality of life being the driving force for its residents and visitors.
We invite you to visit, stay and even consider Hobbs as your final destination for retirement and/or starting a business. You will find Hobbs to be one of the best places to live and raise a family.
We extend a New Mexico welcome to you and your family, and invite you to visit Hobbs and enjoy our unique brand of southwestern hospitality.
[Back to Top]