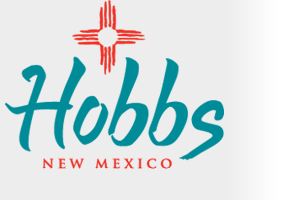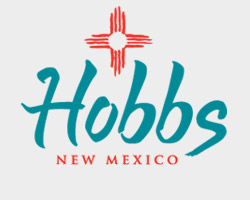 Press Releases
Press Releases
Days of Operation Added to City of Hobbs Transfer Station Schedule
Starting January 1st, 2017, the South Hobbs Transfer Station, located at 3000 East Marland, will be open on Mondays, Fridays, and Saturdays. On these days, the hours of the transfer station will be from 8 a.m. - 5 p.m. When Monday is a holiday, the transfer station will be open the following Tuesday from 8 a.m. - 5 p.m. Residents must adhere to the following restrictions:
South Hobbs Transfer Station Restrictions
No commercial or industrial dumping will be allowed, i.e. landscaping or construction materials.
No fresh/wet paint will be accepted (paint will only be accepted if it is completely dry in its container).
No batteries of any size will be accepted.
No tires will be accepted.
Tree limbs must be trimmed to 4 ft. bundles, weighing no more than 50 lbs. (we do not have a chipper on site like the North Hobbs Facility).
Metal will be accepted (any appliance with refrigerant must be serviced accordingly prior to being disposed of or it will not be accepted).
The recycling center at this location will continue to operate during regularly scheduled hours.
If you have any questions or need additional information, please contact the City of Hobbs Utilities Department at (575) 397-9315.
City of Hobbs Developing Policies to Ensure Full Compliance with Governmental Conduct Act
On February 1st, 2017 a letter concerning the New Mexico State Auditor?s investigation into the City of Hobbs Ethics code was made public. During the 2016 audit, the City of Hobbs self-reported the majority of the information mentioned in this letter from the State Auditor?s Office.
The procurement policy of the City of Hobbs, adopted in 2009, was unfortunately not completely implemented since inception of the policy. Since October 2016, in response to the State Auditor?s findings of 2016, the City of Hobbs has created and submitted a corrective action plan to the Department of Financial Administration to improve transparency and accountability for government spending. Once the City of Hobbs became aware of these concerns, to include engaging in business with Elected Officials, the electronic vendor files were deactivated. The City of Hobbs is currently modifying the Procurement Ordinance, which will be submitted at a date in the very near future, to reference the Governmental Conduct Act as it relates to engaging in business with Elected Officials and Employees. The proposed changes to the policy include the following:
All elected officials and employees must disclose financial interests as it directly relates to the City of Hobbs. This procedure will be performed at the end of every calendar year. The disclosures will be reviewed by the City Manager, Finance, and Legal Departments to determine if any direct interests with elected officials or employees exist. If direct interests exist, future purchases with the elected officials or employees will be required to go thru a competitive process and be disclosed at a future Commission Meeting complying directly with the Governmental Conduct Act.
During the new employee/elected official orientation process, the new employee/elected officials will be required to disclose any direct interests as it relates to the City of Hobbs.
If there is a change in business interest or a conflict of interest arises, the employee or elected official must disclose the changes, in writing, to the City Manager, Finance, and Legal Departments.
The City of Hobbs has been fully cooperative with the State Auditor?s Office in its review of the issues and we are working to implement changes in policy to ensure confidence with the citizens and the State Auditor?s Office. We are committed to presenting a new procurement policy the Staff and City Commission will fully comply with once it is formally adopted.
Water Conservation Period
The Water Conservation Period (WCP) will be from May 15th until September 15th this year. The WCP was first established in Chapter 13.20 of the City of Hobbs Municipal Code as an attempt to curb wasted water in the city, particularly during the hottest, driest months of the year when rainfall is at its lowest. Since its adoption, over 350,000,000 gallons of water have been saved each calendar year. Water restrictions during the WCP include domestic and commercial water usage for garden, lawn, or other exterior watering or sprinkling application.
Such water usages may be applied from the water mains of and upon the premises of a property?s designated days. A property owner?s days to water are designated by the number of their address; odd numbered addresses water on odd calendar dates and even numbered addresses water on even calendar dates between the hours of 4:00 am ? 8:00 am or 7:00 pm ? 11:00 pm. You must pick one of these times, not both. If a particular property has two addresses, the address listed on the consumer?s account with the City?s Utilities Department shall control the day. For months with 31 days, no watering shall be done on the 31st day of the month.

Additional water-wasting regulations during this period include:
No person, firm, corporation, municipal, other government facility or operation shall waste, cause, or permit any water to be wasted.
Water wasting activities that are prohibited include:

Landscape watering on the incorrect day and/or during both time slots
Allowing water to escape from any premises onto public property, such as alleys or streets, or upon any other person?s property
Washing vehicles, structures, driveways, sidewalks, parking areas, or other impervious surface areas with an open hose
Operating a misting system in unoccupied non-residential areas
Operating a permanently installed irrigation system with a broken head or emitter, or with a head that is spraying more than 10% of the spray onto the street, parking lot, or sidewalk
Failing to repair a controllable leak, including a broken sprinkler head, a leaking valve, a leaking faucet, a leaking toilet, or a leaking supply line or pipe
A fine may be incurred if the regulations related to the WCP are not followed.
If you need help adjusting your irrigation system, please give us a call and we will be happy to assist so that you may voluntarily comply with this new law.
For Billing and Customer Service, call (575)397-9315.
Read More »
City of Hobbs Reveals Name and Logo for New $63.5 Million State-of-the-Art Recreation Facility
The City of Hobbs, New Mexico revealed today the name and logo for its new state-of-the-art recreation facility. The facility will be called The CORE, or The Center of Recreational Excellence. "The Center of Recreational Excellence" speaks to the aspirational quality of health and wellness borne of the facility, along with the energy, excellence, and collaboration it took to bring the CORE to life. The facility was designed to function as the core hub of activity and central gathering place for Lea County residents. As such, the name?a true reflection of the spirit of the CORE and the people it serves?couldn?t be more fitting,? said Hobbs City Manager J.J. Murphy.

As a beacon of health, wellness, and collaboration for Lea County, The CORE will be unlike any other recreation facility in the region in size and scope, and will serve as a model for similar projects across the country. Construction for the facility will add a projected 300 jobs to the Lea County economy in total, and has already begun to diversify the community?s industry and workforce output. The community played a collaborative role in the planning and design of the facility and many residents were interviewed as part of the branding process.

The CORE will function as a hub of activity for locals, and a powerful recruiting tool for prospective residents and businesses. With one central, flagship location for community activities, Lea County residents will have greater access to health and wellness, community-wide programming, industry networking, and a state-of-the-art home base for recreation and fun.

The CORE features numerous meeting rooms, playing fields of all kinds, a multi-use indoor court, an indoor NAIA, NCAA, and high school-compliant lap pool with over 1,100 square feet of water surface area, a wrap-around indoor running track, and a recreational pool.

The recreational pool is a destination in itself, with two water slides?one 262 feet long, and another longer tube track. At 425 feet long, the second water slide is longer than a regulation football field, and both slides will be the tallest indoor water slides in New Mexico.

Groundbreaking for The CORE began Sept. 13, 2016. The facility is set to open in May of 2018. In the meantime, patrons can tour the facility virtually via video on The CORE?s Facebook page at https://www.facebook.com/ for more information.

The CORE is a strategic public-private partnership between six Lea County entities, including the City of Hobbs, Hobbs Municipal Schools, New Mexico Junior College (NMJC), the J.F. Maddox Foundation, University of the Southwest (USW), and Lea County. The structure was designed by Barker Rinker Seacat Architecture of Denver, Colorado and DPS of Albuquerque, New Mexico. The Facility?s construction is being managed by Haydon Building Corp. of Phoenix, Arizona. The logo, brand identity, and creative work for The CORE was developed by Cubic, Inc. of Tulsa, Oklahoma.
Read More »
Rockwind Community Links
Dan the movie man in Hobbs New Mexico hitting the links with Barry Peters, Matt Hughes and Linda Howell at the Rockwind Community Links.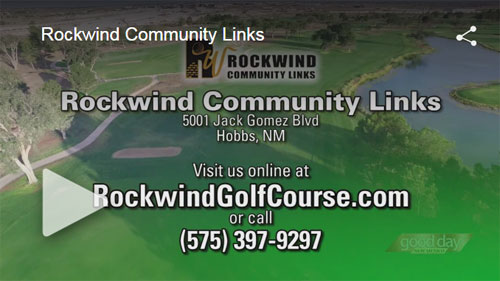 Hobbs Animal Adoption Center Art Dedication Ceremony
At 9 a.m., on Tuesday, August 23rd, 2016, an art dedication ceremony of the sculpture "Who Rescued Who?" was held in front of the Hobbs Animal Adoption Center (HAAC). The sculpture depicts an intimate moment between a long-legged dog with its long-legged master, sculpted by Lorri Acott, who will be in attendance at the ceremony.

The Hobbs City Commission approved the purchase of the artwork during the City Commission meeting on November 2nd, 2015. The artwork had been found and chosen by the Public Art Committee, of which members, Daniel Russell and Mary Lyle, presented the piece to the Commission and described the impact it could have on the HAAC and community. The City of Hobbs is happy to continue contributing to the possession and nourishment of art in the community, believing that it is another progression of quality of life.

According to her biography, "Lorri Acott sculpts long-legged figures and animals that reflect intimate moments in our lives: a feeling, an interaction, a realization. Simplified and without the details of faces or clothing, they rely on our innate understanding of the human gesture to inform us." Ms. Acott?s impressionistic figurative sculptures dot the map in numerous locations throughout the U.S. and abroad in private and public collections, making them a favorite for collectors and critics alike. Ms. Acott is also the co-founder of DreamBigSculpture.com, a company which specializes in the creation of large scale artwork for both corporate and public collections worldwide. This company is currently focused on creating new monumental-sized sculptures for public placement.

City Manager, J.J. Murphy, stated, "We appreciate the research and effort spent in locating and obtaining this fine monumental piece of art. It will welcome future pet owners as they arrive at Hobbs Animal Adoption Center to take their new pet to their forever homes. We are grateful to Lorri Acott and the Hobbs Public Art Committee for their dedication to improving culture in this community."
City of Hobbs Collaborates on $63.5 Million State-of-the-Art Recreational Facility in Unique Public-Private Partnership
It has been 4 years now since the joint concept was conceived. That is exactly what it started out as, a concept. Then many meetings with private and public entities were made, hours were spent, input was received, volunteers contributed, experts were contacted, and days were lengthened. After thousands of hours of dedicated work and evaluation, it is now time for execution of this state-of-the-art facility. On Monday, August 1st, 2016, at the Hobbs City Commission meeting, the Commission passed the grant agreement between the J.F Maddox Foundation, the construction contract with Haydon Building Corp, and the authorization for construction administration services from Barker Rinker Seacrat Architecture. This gives the City of Hobbs the authority to move forward on constructing this $63.5 million multi-generational recreation center.
The recent downturn in the oil patch has reminded us all of the need to diversify our local economy. We are well on our way to creating a destination for Hobbs and Lea County that will be the envy of not only small towns in our country but many of the metropolitan areas as well. The proposed facility will provide recreational opportunities for all ages both for visitors and residents and will be a powerful recruiting tool for our economic development efforts. It will truly put Lea County on the map for a special place to 'Live Work and Play.'"
This $63.5 million recreational facility will be like no other in the region and will supply the area's economy with up to 300 jobs during construction. It will include numerous meeting areas, an indoor soccer field, a multi-use indoor court, an indoor lap pool that meets NAIA, NCAA, and high school regulations, an indoor therapy pool with 1,100 square feet of water surface area, an indoor track that will wrap around the inside of the facility, and an indoor recreational pool with 3,300 square feet of water surface area. The recreational pool will have 2 water slides. The body slide will have a 32" diameter and be 262' long. The tube slide will have a 52" diameter and be 425' long ? that is longer than a football field! The two slides will start from the concrete tower 40'-3" above the pool deck, making it the highest indoor slide in New Mexico. All this activity will revolve around a central core in the facility, where the indoor play area will be. This core symbolizes the synergy of so many individuals that made this entire project possible.

It was the synergy that the City of Hobbs, Hobbs Municipal Schools, New Mexico Junior College (NMJC), the J.F Maddox Foundation, University of the Southwest (USW), and Lea County created in order to improve the quality of life in our community. Here, children will have a place to gather and participate in numerous extra-curricular activities together. The community's quality of life as a whole will be largely increased. This investment will make the area more attractive for companies to expand as their employees will benefit from our recent investments in affordable housing, quality of life initiatives, and multiple investments in public safety.

The president of NMJC, Kelvin Sharp, who recently entered the position after the retirement of Dr. Steve McCleery, stated on Monday, "What a tremendous asset this facility will be to the community. Its unique design and features will truly support and enhance the wellness of our citizens."

City of Hobbs Mayor, Sam Cobb, stated at Monday night's City Commission meeting, "The recent downturn in the oil patch has reminded us all of the need to diversify our local economy. We are well on our way to creating a destination for Hobbs and Lea County that will be the envy of not only small towns in our country but many of the metropolitan areas as well. The proposed facility will provide recreational opportunities for all ages both for visitors and residents and will be a powerful recruiting tool for our economic development efforts. It will truly put Lea County on the map for a special place to 'Live Work and Play.'"

Hobbs City Manager, J.J. Murphy, stated, "This facility is a game changer in our community. This public-private partnership embraced the vision of making this the community's multi-generational recreation facility in every step of the way. After all the success of Rockwind Community Links, I am humbled to be a part of another impactful project which will be a model for other communities to follow. We stand together and redefine the term 'public-private partnership' where six public and private institutions came together to collaborate on a true center of recreational excellence." Following the statements from Cobb and Murphy, Murphy gave a PowerPoint presentation of the facility spread out on 12 acres. He displayed photos of the interior and exterior of the facility. At the end of the presentation, he played a video of a virtual experience around the outside of the facility, at the end of which the individual traveled down the entrance road and arrived at the front doors where the flag of the United States of America and the flag of the state of New Mexico are waving in the wind.

The date of groundbreaking will be announced once scheduled. Construction will last approximately 22 months from the start date.
American Ramp Company Pumptrack Tour Comes to Hobbs
The Hobbs Teen Center will be hosting a pumptrack demo given by the American Ramp Company (ARC) on July 1st, 2016 from 3-6 p.m.! Pumptracks are a progressive type of recreational activity that uses an up and down "pumping" motion to propel the vehicle forward. The vehicle of choice could be a scooter, skateboard, rollerblades, or bicycle of any size and the tracks are suitable for riders of all ages and skill levels.

The ARC provides every building method of pumptracks and is also a recipient of the Small Industry of the Year Award. The portable, versatile track that will be demonstrated is assembled with numerous pieces that can be rearranged in different orders and result in an entirely different track every time with different slopes, curves, and turns.

So, be sure to be at the Hobbs Teen Center at 602 West Alto Drive in Hobbs, New Mexico to participate or witness the ARC Pumptrack Demo Tour on July 1st between 3 and 6 p.m. The demo will be held in the parking lot and there will be large speakers with music pumping through them. You, your friends, and recreational individuals of all ages and skill levels are sure to be entertained!

Take a look at americanrampcompany.com for more details about ARC or look up American Ramp Company on YouTube to view videos on pumptracks and their various layouts.

For more event details, call the Hobbs Teen Center at (575)391-9505. We hope to see you there!
Hobbs City Park to be Upgraded
The City of Hobbs (City) and the Hobbs Municipal Schools (HMS) are pleased to announce a joint meeting of the School Board and City Commission at 4:30 PM on Wednesday, March 2nd at Murray Elementary School to launch a special partnership and approve a memorandum of agreement between HMS and the City. We are very pleased to announce a special funding partnership that will result in major renovations to City Park. Several years ago, in connection with the plans to construct Murray Elementary School, HMS and the City each reserved $250,000 in capital funds to improve City Park in anticipation of greater use of the facility as a result of the location of Murray Elementary next it. Subsequently, the J. F Maddox Foundation (Foundation) indicated an interest in participating in this project to expand the level of improvements that might be made to the park.

Last year, the City engaged Wilson & Company to explore possible options for significantly upgrading City Park. This experienced engineering and architectural firm has worked with the City, HMS and the Foundation in developing a Master Plan. During this process, the City reached out to area residents for their input. The resulting Master Plan provides for significant improvements to City Park, which include exciting new features that will accommodate the varied interests of people of all ages. Among the improvements planned are additional gathering/picnic areas, new athletic courts, a large splash pad, new restrooms and additional parking. Further, the planned improvements will result in a much more attractive park that will complement the many significant improvements that have been made in the area neighboring the Park. Based on the Master Plan, the Foundation has agreed to provide $3,740,000 in funding in support of this project.

Jim Maddox, President of the Foundation, stated that "The Foundation's Board sees this investment as a unique opportunity to upgrade a valuable community asset for the benefit of the neighborhood as well as all residents of the City."

Mayor Sam Cobb stated: "The City and the Schools had set aside funds a number of years ago to provide some small upgrades to the Park and are not currently in a position to allocate additional dollars to respond to the exciting plans detailed in the Master Plan. The Foundation?s commitment to this project at this particular time is greatly appreciated. It is interesting to note that, in the 1940?s; the Murray family donated to the City the land where City Park is located. Accordingly, it is very fitting that a project of this scale can go forward at this time with the support of the Foundation."

T. J. Parks, Superintendent of HMS, echoed the Mayor?s comments: "When the School Board selected the site for the construction of Murray Elementary; its proximity to City Park was a significant factor. Many of our elementary schools benefit from having recreational areas as part of or next to their campuses. Having an improved City Park next to Murray School is a wonderful benefit to the Murray School students, teachers, staff and their families as well as residents of the City of all generations. This partnership (the City, the J. F Maddox Foundation and the Hobbs Schools) is another example of how collaboration between the public and private sectors can be developed in such a manner to provide great benefits to all the residents of the region. The Hobbs Schools are proud to be a part of this significant improvement to our community?s quality of life."

J. J. Murphy, Hobbs City Manager stated "This project will have a significant impact across the city. Many residents use City Park as their destination park and we felt it appropriate to solicit their ideas and concerns. While this public-private partnership has been talked about for years, I would like to take the time to thank the staffs of Wilson & Company, the J. F Maddox Foundation, Hobbs Municipal Schools and the City of Hobbs for taking these ideas and helping them come to fruition. We are certainly a stronger community because of our collaborative spirit."
Veterans Now Ride FREE on Hobbs Express
Beginning on November 8th, 2016, Veterans can now ride free on all Hobbs Express bus routes as well as the demand response-paratransit bus service. Upon boarding any of the fare-based routes, Veterans must present a Veterans ID photo badge or valid New Mexico driver's license with a Veteran's designation, and their fare will be waived.
"Veterans have made a great sacrifice to all of us and we want to thank them for their service to our country and to the people of the United States," stated Jan Fletcher, Hobbs Express Public Transportation Director. "We are proud to offer this benefit."

Hobbs Express joins other agencies such as the NCRTD, Rio Metro RTD, operator of the NM Rail Runner Express, and the City of Santa Fe's Santa Fe Trails bus transit system in offering this show of gratitude to our nation's Vets.

Hobbs Express provides fixed-route bus service on three routes that run daily each hour throughout the community at designated bus stops. Riders can transfer to another route at various bus stop locations. Hours of operation are Monday through Saturday, 7 a.m. to 5 p.m. Through the demand response program, riders may schedule a pickup from any specific location within city limits and receive curb-to-curb transportation service - We would just like to remind veterans and riders that there is a 24-hour notice requirement for this service!

Hobbs City Manager J.J. Murphy stated, "I am moved by Hobbs Express Staff's initiative to provide this complimentary service to the ones in our community who have sacrificed so much. As a veteran myself, I recognize the impact this offer will have on our residents and was quick to approve the program when the (Hobbs Express) Staff presented it. I hope the veterans of our community recognize this as a symbol of our gratitude for their service."

For more information or to schedule a pickup, call Hobbs Express at (575)397-9290.
Read More »
Warrior Award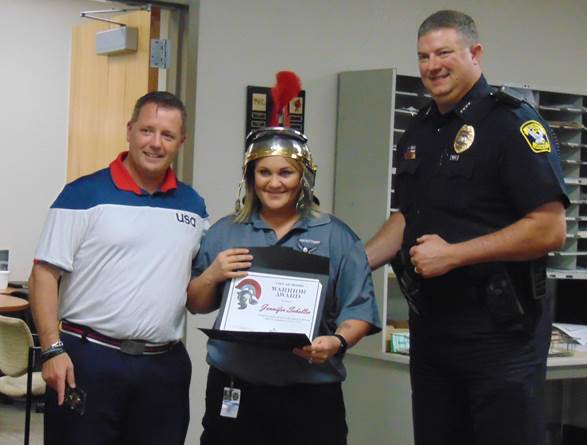 Jennifer is a Crime Scene Technician with the Hobbs Police Department. Although that is her ?job title? she constantly and consistently goes above and beyond her job duties for the members of the department and the public. She is always willing to help anybody that needs it, regardless of what the task is, she displays a positive attitude towards her job that is contagious throughout the department.

On March 15, 2017 Officers located a sixteen month old child that had been abandoned by the mother. Officers took custody of the child and transported him to the Hobbs Police Department. It was unknown when the last time the child had eaten and feeding the child was a priority. Due to calls for service being so high that night, all officers were busy. Jennifer was contacted and asked if she would be willing to get the child food from McDonald?s. Without hesitation and very enthusiastically Jennifer stopped what she was doing and went to McDonald?s and bought the child a meal. Jennifer did this with a great attitude and refused to be paid back for purchasing the meal. The child ate food and was content. Jennifer also remained with the child; helping officers care for him until he was released to CYFD.

Officers knew they could call and ask for this favor from Jennifer due to her constant willingness to go above and beyond her job description and help other. Not only does she accomplish her own tasks, but she can be seen around the department cleaning various offices and training areas, asking different officers if they need help with anything and making sure everybody has what they need.

This is a small example of the continuous services oriented attitude Jennifer displays on a daily basis. She leads by example and is a great ambassador for the City of Hobbs and the Hobbs Police Department.
Grassfire Prevention
With the seasons beginning to change, comes a rise in temperatures as well as wind speeds. It is always important to be educated about grassfire prevention as it could make the difference in the loss of property damage or loss of life. Please, heed the following pieces of information and tips this season:
Do not park cars, trucks, or recreational vehicles on dry grass or shrubs. Exhaust systems on vehicles can reach a temperature of more than 1,000 degrees; it only takes about 500 degrees to start a bush fire in the summer.
Within the city limits of Hobbs, New Mexico, no burnings of trash, leaves, or bush is permitted. To burn such materials outside of city limits, a burn permit is required.
Keep a 30-foot ?survival bay? around the home, making sure to clear the area of bush and cedar, especially for those living in rural areas. Grass should be cut short in the ?survival bay? as well. For homes that sit on a steep slope, the safety zone should be increased accordingly.
Rake leaves, cut off dead limbs, cut grass regularly, and remove dead branches that extend over the roof, tending to your roof gutters as well.
When barbecuing, place ashes or burnt charcoal in a metal bucket and soak in water, checking back regularly to monitor. Keep a shovel, bucket of water, fire extinguisher, or other fire suppression tools on hand.
Having a safety action plan ready prior to a possible grass fire is vital. This includes: a meeting place for each family member and knowing where all possible exits and escape routes are located. Households with children should consider drawing a floor plan of your home, marking two ways out of each room, including windows and doors.
Parents should emphasize the dangers of playing with fire to their children. Many grassfires are often started by children who are unaware of how quickly flames can grow and spread. Children need to be informed of the potential threat.
Do not hesitate to call and report a possible fire. The quicker responders are notified, the better chance they will have to contain the fire.
For more information, feel free to contact the Hobbs Fire Department at (575) 397-9308 or the Fire Marshal at (575) 391-8158.
Operation Switch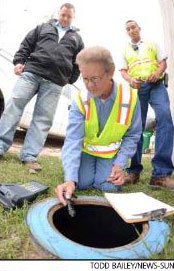 City of Hobbs City Manager JJ Murphy was recently able to leave his desk for the day and join the Water Department for their daily tasks. All in part of Operation SWITCH, read below to see his newfound role for the day.
Hobbs employees enjoy being shadowed by city manager
Just to be clear Lorenzo Villarreal keeps his work truck clean all of the time.

His boss knows it, his boss?s boss knows it and now his boss?s, boss?s boss knows it.

That last person happens to be City of Hobbs Manager J.J. Murphy, who spent a few hours with Villarreal recently driving through the streets of Hobbs as he explained to Murphy what his job is.

Villarreal is a meter reader who works for the city?s water department. His job is exactly what it sounds like. He spends his days driving from residence to residence, checking the water meters which will eventually produce a water bill.

But back on this particular December day, Villarreal had a shadow.

Every few months Murphy likes to get out from behind his desk and see the work actually being done in Hobbs. He?ll spend a day observing the daily tasks of Hobbs employees, while asking questions about their job and about the employee. He calls it "Operation SWITCH."

"It means Stop Working In The City Hall," Murphy said of the acronym. "I have probably done about a dozen different departments. I believe it is important to let the employees know that I value their job that they do and I am willing to do it. To go out and learn more about some of their challenges in their everyday work. We?ve made critical budgetary decisions based one some of the things that I have learned."

For instance, more than a year ago Murphy spent some time at the city jail. He got to know the jailers, their day-to-day responsibilities and their lives outside the job. Murphy said he saw the security issues that pertain to the 50-year old facility and realized that a updated jail is needed.

"I went to Colorado and learned about building facilities," Murphy said. "That?s why I am a proponent for when we have the money about building a new city jail. We have already allocated some money for design for a new city jail."

Don?t expect a new water office or anything as drastic from Murphy?s visit. He sat with employees in the utilities office and learned about them. Then he wanted to do their job.

"He wanted to sit at the water department?s window and take the customer?s payments," said City of Hobbs Utilities Office Manager Kaylyn Lewis. "He watched what everyone did and talked to the employees. It was really slow in the office when he came by that morning. He did see a few of our customers though."

Then it was off with Villarreal in his clean truck. What was it like to have the city manager shadow you for a day?

"I was in the back seat so it didn?t bother me at all," laughed Carol Gober, the city?s Meters and Services Supervisor and Villarreal?s direct boss. Normally it?s Gober who rides with the meter readers and visit residences. On this day, she watched as Murphy observed and asked questions.

"He asked some questions, but we mainly just told him what we were doing," Villarreal said. "It?s common questions that we always get asked. When we were telling him about our meter reading programs, Census and Neptune."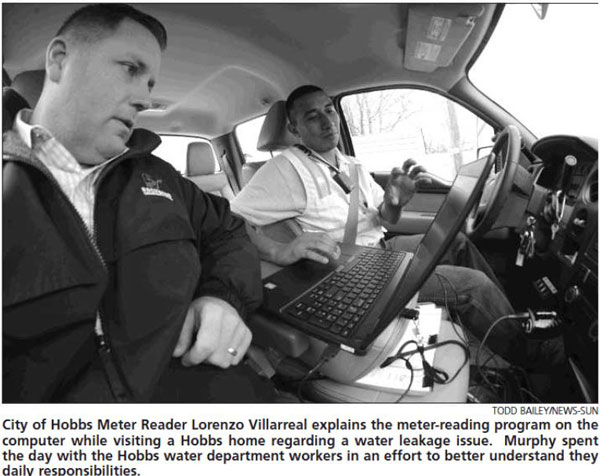 Gober said Murphy was interested on how the meter reading programs worked. Each meter reader has a device that scans a computer sensor on the meter. It is then processed and a readout can be seen on a computer stationed in Villarreal?s clean truck.

On this particular day, the trio visited a Hobbs residence that had a recent history of high water bills. Employees have made multiple visits to the residence in an effort to find the problem.

"We had done everything on our part to find out why it was so high to try to help them," Gober said. "They had a swimming pool in their yard. When we use this program, it shows us their water usage for the last 90 days. It helps us out if people have a high water bill and they come to the office and complain about it. Of course they are complaining about a bill that is charging for the month before. There may not be a leak at the time of their complaint, but through this program we can see where there was a lot of water used."

Initially, no leak could be seen, so Gober said they first replaced the meter and sensor. When the readings came back the same it was a sure sign that there was a leak.

"Water usually finds a way to come back up," Gober said. "It turned out the leak was under the tile to the pool and that leak was running right into the sewer so it was hard to find. It took a while for the water to start bubbling up through the tile."

Now that the leak is fixed, Gober, Villarreal and Murphy were making one last visit to determine if the water usage was going down. That?s when the resident came out of her house to visit. She thanked the employees for the continued effort of finding the problem.

"One thing about that customer was that they were very nice and they wanted to try to help," said Gober. "Sometimes we have residents who come out of their homes yelling at us first thing. The majority of time the residents are pretty nice. They are trying to figure out what is going on and so are we."

Murphy was impressed with the amount of time Gober and her employees gave.

"I would never know our employees go that extra effort," he said. "It?s great to see firsthand. I get a lot of department heads who tell me what their employees are doing, but to see it first hand makes me a better manager."

Seeing it firsthand also improves morale between city employees and Murphy.

"He?s not the type of person to sit in his office and not understand what the employees in this town do," Villarreal said. "He understands how the actions that he makes in his office affects the employees who work under him."

"It was nice to see him come with us," Gober said. "We often see him in the employee parking area and we say ?good morning,? but he didn?t know what we were going off to do at work."

Tim Woomer, director of Utilities for the city, said the idea behind Operation SWITCH isn?t a smoke screen.

"It says volumes about a guy?s real commitment and if he really cares or just giving it lip service," Woomer said. "I can?t say there has been another city manager who did that and I have been here for four of them." Murphy would like to expand the operation to include department heads and maybe some employees. It was a topic of conversation at a recent city morale committee meeting where employees talk about ways to improve the quality of work life with the city of Hobbs.

Woomer likes the idea, but feels the logistics need to be worked out a bit.

"When you look at it, you don?t have extra people with the city, so when you are shadowing someone or being shadowed, that person isn?t doing what needs to be done (at their respective job) and that can be an issue," Woomer said.

Gober liked the idea of implementing SWITCH at the employee level, if only to spend a couple of hours at a certain department.

"I know the girls who work on the plants around town, they work and I wouldn?t mind planting flowers for half a day," she said. I like gardening, but I don?t want to do it all the time."

Villarreal wouldn?t mind another visit from someone from another department, just as long as they kept his truck clean.

"I kinda knew something was going on when Carol looked inside my truck the day before (Murphy?s visit) and she said she was just checking to see if my truck was clean," he said.

"I knew J.J. was coming but I didn?t tell Lorenzo because I know him," Gober said. "He would have been worrying about it and would have cleaned his truck again. It turned out to be a good day. We got to spend time with the city manager and he got to see what we do. That makes us feel good knowing that our work life means a lot to him."
Streets Recycling
For the next four weeks, the process of recycling streets will be ongoing , weather permitting. Attached is a map of the streets which will be affected, with the possibility of small additions. College Lane, Joe Harvey, and Stanolind Road will be worked on during the weekends to accommodate the high volume of traffic to these streets during the regular work week. Flyers are being delivered to residences and businesses in the affected areas in advance of their street being recycled. Please, refer to the related map sent out with this press release.

Street recycling is a benefit for our community. It prolongs our streets as a method that recycles existing asphalt materials. This method is a preventative measure taken to delay any major reconstruction to our streets for additional years to come. This will save the City of Hobbs both time and money. We thank the citizens and residents of Hobbs for the patience and understanding.

For more information, contact the Streets Department at (575)397-9318.
Community Service Project During NMML Conference
The City of Hobbs will be hosting the 59th New Mexico Municipal League (NMML) 2016 Conference from August 30th - September 2nd. An important factor of the annual conference is that the attendees have the opportunity to participate in a community service project. Over the years, these projects have ranged from planting trees to community cleanups.

This year, the City of Hobbs proposed a bathing and shot clinic for dogs for the project. The bathing and shot clinic for dogs will take place in front of the Hobbs Animal Adoption Clinic (700 N. Grimes St.) from 10:00 am - 3:00 pm. The clinic will be open and available to all well-behaving dogs. Each dog must be wearing a collar and a leash. The owner must be present for the duration of the dog?s care.

This project and location will come at a perfect timing considering the art dedication ceremony that was held on Tuesday, August 23rd. The ceremony is in recognition of the purchase and installation by the City of Hobbs of the statue by Lorri Acott, Who Rescued Who?, placed in front of the Hobbs Animal Clinic.

The City of Hobbs looks forward to numerous municipal members from various areas across the state donating a bit of their time and energies in contribution to our community. It is not just a time for pet owners to bring their beloved furry friends to be taken care of, but also a time for individuals from across New Mexico to get to know our community and its wonderful residents. The Hobbs Animal Adoption Clinic is proud to be a part of this opportunity and provide this setting.
City of Hobbs Hosts Fifty-Ninth New Mexico Municipal League Conference
For the first time in history, the City of Hobbs will be hosting the 59th New Mexico Municipal League (NMML) 2016 Conference from August 30th - September 2nd. According to their website, "The NMML is a nonprofit, nonpartisan association representing and serving New Mexico?s cities, towns, and villages." The League is made up of 106 member cities, which represents the State?s entire municipal population. This means that hundreds of visitors will be in Hobbs, New Mexico for at least 4 days and 3 nights.

The host of the annual NMML Conference is chosen from numerous bids submitted to the NMML. This bid is in competition with other municipalities? bids from all over the state of New Mexico. During the NMML Conference, attendees will attend educational workshops that are related to their specific field of work, delegate votes will be cast in setting policy and electing officers, municipal elected officials will be able to earn some of their required credentials, and representatives of each member city will have a chance meet with other representatives to discuss methods and practices.

All year long, the League conducts workshops, meetings, and performs other duties to keep municipal officials informed and assist them with their obligations and responsibilities. This is an opportunity for municipal representatives from all over the state to meet with each other and discuss which methods have been working best for their part of the state. Municipalities and their residents confront many similar issues; this conference is a chance for them to share best practices in overcoming these issues.

City Manager, J.J. Murphy, stated, "Hosting the 59th NMML Conference is a huge honor and responsibility. We have been planning for this conference for 3 years now and it is exciting to finally get to see all that hard work done by City of Hobbs and NMML staffs come together. For the first time, the City of Hobbs will be the host of this conference and able to show other municipalities of the state what our city has to offer. We look forward to a successful and memorable conference."
Watch Out for Employees
You may have noticed the Parks and Recreation Department enforcing weed control throughout the city by spraying the landscaping areas in the road medians throughout town. The vehicles being used for weed spraying will be traveling much slower than the speed limit and will have their flashing lights on to alert surrounding drivers. Employees will be outside the vehicle conducting the weed spraying. However, the City needs your help in making sure these employees can do their job safely.

The City would like to encourage all drivers to stay focused and avoid all distractions in order to be aware of the employees and avoid coming to close to them. Please, look out for these vehicles and employees that will be outside the vehicle, as well as pay attention to all other safety concerns you may encounter while traveling.

This weed spraying conducted by the City of Hobbs is safe and harmless to residents and animals. City of Hobbs employees are proud to serve you and provide the safest city available and we appreciate your support and involvement.

For any questions about spraying of medians, please call the Parks and Recreation office at (575)397-9291.
USGA Filming Crew Visits Rockwind
On April 6th and 7th, Wednesday and Thursday of this week, a filming crew from the United States Golf Association (USGA) traveled to Hobbs, New Mexico to catch the beauty and success thus far of Rockwind Community Links. Since inception, the staffs of the facility, as well as the City of Hobbs, have worked diligently to accomplish the concept of "community links," and the USGA has embraced this concept and believes it may be the catalyst for growing the game of golf.

Rockwind has received numerous awards and accolades in the months leading up to the USGA visit, with one magazine calling Rockwind "the future of golf." With golf's popularity rapidly decreasing in the past few decades, the USGA seems to agree with that statement. The project of filming a piece on Rockwind came about after a presentation about Rockwind Community Links given by Hobbs City Manager, J.J. Murphy, and course architect, Andy Staples, at a USGA Symposium in January. The idea of still keeping golf as the center of such a facility but bringing in activities that either haven't been incorporated at a course before or not in the same way contributes to the concept. That has made such a positive impact on our community, as well as to the success of Rockwind. This was the theme of J.J.'s presentation which caught USGA leaders' attention.

Rockwind has an open atmosphere and numerous activities made available for golfers and non-golfers of all ages, making it a gathering place for groups and individuals of all types and interests to come to. Now, others around the nation will learn about the 9-Hole Par 3 Course and 18-hole Championship Course, the jogging trail, the numerous types of golf classes and clinics for golfers at all stages, the reservation types made available for weddings and other special events, and the relaxing patio as well as indoor dining experiences at Rockwind Grill.

The filming crew's visit, made by Rob Cowen and Rob Rabena, consisted of numerous on-camera interviews given by various supporters of Rockwind. The Mayor, City Manager, participants in the Couples Program on Wednesday nights, children and their parents of the First Tee Program of Southeastern New Mexico at Rockwind, and of course Rockwind Golf Pros Linda Howell and Camren Bergman all delivered positive comments. With beautiful weather and an active schedule, Rockwind shone in all its glory both days, giving the crew the perfect opportunity to catch the well-known sunsets and sunrises that Southeastern New Mexico manifests. The crew also took many shots of both courses, but also of some of the local surrounding attractions, such as Harry McAdams Park, the 9/11 Memorial, and the jogging trail along Lovington Highway.

After seeing how this concept has not only sustained itself but thrived, the USGA is now presenting Rockwind Community Links to golf courses and industry insiders across the nation as a model for how golf courses should now be developed and managed. The success and honor that Rockwind has attained is something unforeseeable but well-received, with J.J. Murphy stating, "It is a major privilege for the USGA to acknowledge and highlight Rockwind Community Links in such a way. To be showcased as a model for how golf possibly could be developed and managed is sure to bring many more accolades for Rockwind, and we were happy to accommodate the filming crew and thank them for all of their hard work in getting our message out."