City of Hobbs Annual Water Conservation
The Water Conservation Period is in Effect From
May 15th through September 15th of Each Year
During the Period of Hobbs Annual Water Conservation, outdoor watering shall only occur once per day during one of the following time periods each day and only on the corresponding odd or even calendar dates for each address.
You may water your lawn either:
Between the hours of
4: 00 am and 8:00 am
OR
Between the hours of 7:00 pm and 11:00 pm

If you need assistance regulating your water system please give us a call and we will be happy to help you comply with this new law.

Customer Service
575-397-9216
Tune in to 99.3 FM hear the latest public service announcements, event updates and emergency broadcasts from the City of Hobbs, 24 hours a day!
Recent Addition! The City Commission meetings are now broadcasted LIVE
on KHBX 99.3!
Proposed Mobile Vendor Ordinance
To see the proposed Mobile Vendor Ordinance, please click the following link:
Hobbs Community Cleanup
Haul it to the curb and we'll haul it off!
Saturday - September 19
Sanger to Broadway

Saturday - October 10
Sanger north to City Limits, and west of Fowler to City Limits

Saturday - November 7
Sanger north to City Limits and east of Fowler to City Limits
Large household items (not construction waste) need to be placed at your curb before 8 am the morning of each pick up.
Cleanups are for residences ONLY within City Limits
No demolition & construction materials allowed!
Limit of 4 passenger tires per residence
For assistance, call 397-9292.
Turner Improvements (Sanger to Broadway)
The City of Hobbs contracted Dustrol, Inc. to perform pavement rehabilitation (hot asphalt recycling) on numerous roads throughout the city, which includes Turner St. The Hot Asphalt Recycling will remove all pavement markings and striping, and the Traffic and Engineering Departments have reviewed the existing lane layout on Turner from Sanger to Snyder. It is recommended to provide a center turn lane, which would reduce the number of driving lanes from two (2) in each direction to one (1) through lane in each direction, although maintain on-street parking where feasible.
New Restaurant Opens in Hobbs and Hopes to Appeal to All
Joe and Sarah Yue have been working for over 30 years in Hobbs, and many locals, as well as visitors to Hobbs, would say they have been very successful.
The Yue's are now taking those many years of experience and the amazing growth that Hobbs has experienced and beginning an exciting adventure, a band new restaurant in Hobbs called the Rockwind Grill.
[visit the Press Releases page to read more]
Coming Soon - Online Community Videos
Dal Paso Road Improvement Update
Constructors Inc has reopened Mesa, Baja, and Seco streets West of Dal Paso and Llano street East, to through traffic
East and West Michigan as well as East Yeso will stay closed to through traffic this week
We ask that you continue to observe all signs and the posted 25 mph speed limit within the entire length of the construction zone.
If you have any questions, you can contact Constructors, Inc. at 392-0524.
Hobbs Crime Stoppers to Receive $10,000 to Help Solve Hate-Based, Discriminatory Crimes
Hobbs is making moves to prevent future hate crimes. Crime Stoppers will receive $10,000 dedicated to solving discriminatory crimes.
That's after criminals vandalized a center where the directors are African American.
On Monday, the Hobbs City Commission passed a resolution aimed at solving discrimination-based crimes and hate crimes, highlighting the city's existing zero tolerance policy.
"It's really a reaffirmation of the way the citizens of Hobbs feel about these types of things," said Mayor of Hobbs, Sam Cobb.
[For more information, click here.]
Health, Wellness & Learning Center
The Health, Wellness and Learning Center (HWLC) represents a distinct partnership of the City of Hobbs, Lea County, New Mexico Junior College, Hobbs Municipal Schools, University of the Southwest and the J.F. Maddox Foundation. Its vision is to enhance the quality of life, economic development and improve the health of area residents.
[For more information, click here.]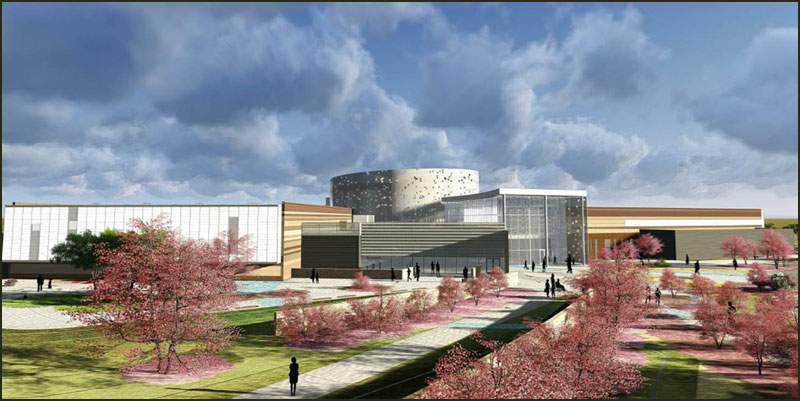 Fred Couples Talks at Rockwind Community Links Grand Opening

Parks & Rec Save the Date!
Check out the Parks & Recreation Schedule of Special Events so you can 'save the date'! Of course, there will be smaller events and some larger that pop up throughout the year unexpectedly, but these are our tried and true yearly events that the Community has grown to know and love.
It's tradition!
Be sure to print the attached flyer for your own use either at home or for the office. "It All Happens Here" is easy to prove using this flyer!
[print the "Save the Date" flyer]
Swim Lessons & Speciality Classes - Spring 2015 (see flyer for details)
Dog Daze of Summer - Sept. 12th
Haunted House - Oct. 23, 24, 30, 31
Halloween Carnival, Oct. 31
Parks & Recreation Flip Book Now Available
We now have the tools to help you plan your summer activities. Below is a link to the electronic version of the activity guide. The paper booklets are also in stock at the Parks & Recreation Office and other offices around City Hall.
Be sure to note the Highlights pages for information on the upcoming New Mexico/Texas Challenge Marathon on April 18 and a bigger, BADDER Gus Macker Tournament and Slam and Jam events on April 24-26.
From the Parks & Recreation Department, here's wishing you a wonderful, safe, and busy summer!!
http://myinsideraccount.com/publication/?i=248926
City Announces New Fire Chief
At Tuesday night's commission meeting, the City Manager announced the selection of a new Hobbs Fire Chief, Eric Enriquez. Enriquez has been with the City of Hobbs since 2009, when he was hired as the Fire Marshal. Enriquez was one of three internal candidates interviewed for the position of Fire Chief after the retirement of former Chief Tim Kent in late April of this year.
Before coming to Hobbs, Enriquez
began his firefighting career in Las Cruces, NM, and was the Fire Inspector/Investigator for approximately 7 years. After moving to Hobbs and acting as the Fire Marshall for almost 4 years, Enriquez was promoted to Fire Marshal Deputy Chief and, later that same year, was given additional responsibility when they made adjustments to the structure of duties, and added the title of Director of Community Services. Community Services includes the building and permits, animal adoption center, code enforcement, and fire prevention.
"I am honored and excited to take on this new role as Hobbs Fire Chief," said Enriquez. "I believe my experience, combined with my vision for guiding this department, will fit in well with the direction that the commission has established. I look forward to continuing to serve the community in my new capacity."
City Manager J.J. Murphy stated, "Eric Enriquez is an outstanding leader with exceptional character. I am confident that Eric will be an effective leader and will continue to motivate our men and women of the fire department to provide superior customer service and a standard of excellence that we expect from our EMS and firefighting professionals.
Enriquez will be taking over the position as chief immediately.
Fire Department Summer Camp
We still have openings for children completing the 4th and 5th grade. The camp is scheduled for Monday through Thursday on June 1-4 from 8:00 a.m. to 12:00 p.m. Graduation will take place on Friday, June 5 at 11:00 a.m.
To register, call 575-397-9291 or come by the Parks & Recreation Office at 200 E. Broadway.
Municipal Court Fines payment reminder
Municipal Court Fines – 3 ways to pay! In person – 301 North Turner, Hobbs, NM, by phone with debit or credit card- 575-397-9272, or on internet at hobbsnm.org "Pay My Fine"
Hobbs, New Mexico Encourages Community Participation to Keep a Safe Community
Making sure a city stays safe may be a more complicated process than you think. A lot goes into making this happen and the officials and citizens of Hobbs, New Mexico, are doing an excellent job at ensuring their town is safe for both residents and visitors.
Hobbs Express
New Location: 424 West Broadway
Ride the bus routes or call 397-9290 to schedule a demand response ride.
Like us on Facebook
Click this link to visit the Hobbs Express Facebook page. Don't forget to Like us!
Register for CODERED

Lea County has instituted a new rapid emergency notification service called CodeRED®. The new system will distribute emergency messages via telephone to targeted areas or the entire county at a rate of 1,000 calls per minute. CodeRED® employs a one-of-a-kind Internet mapping capability for geographic targeting of calls, coupled with a high speed telephone calling system capable of delivering customized pre-recorded emergency messages directly to homes and businesses, live individuals and answering machines.
Quality of Life Master plan

The Lea County Recreation Master Plan is a quality of life and economic development initiative. Led by an unprecedented coalition of Lea County organizations, institutions and local governments, this effort is more than a recreation planning effort.

If implemented with vision and a spirit of collaboration and community, these projects can expand the identity of Lea County from an economic force to a business friendly and desirable community where people want to work, raise a family, and live a western lifestyle.

Single-handedly or in combination, these projects can be a catalyst for significant, positive change.
Business Services

Whether you're a startup or a returning business renewing your registration, the City of Hobbs wants to help you succeed. Your success enriches the entire community.

Explore the business resources on our website and learn about how your city can help you grow your gusiness.

Visit www.hobbsnm.org/business_services.html
How to report a street light outage

On-Line:
Go to www.xcelenergy.com

Then follow these instruction:
Click on New Mexico
Click on Report a Problem in the middle of the page
Click on Street Light Outages on the left side of the page
Under "Report Online": click on Report Streetlight Outage
Fill in required fields on form
Click Submit

Report by Phone: 1-800-895-4999
Wanted! All Recyclables!

Contacts, Hours and Locations:

Hobbs Waste Management Recycling Center
3000 E. Marland., 575-392-6571
Open Tues, Thurs, Fri 8a - 5p; Wed, Noon- 5p; Sun 10a- 3p

Hobbs Waste Management Recycling Bins
2608 Lovinginton Hwy, Mon-Fri 6a - 5p


Lea County Northern Transfer Station
40101 W. Hiap, Behind Halliburton, 575-391-2953
Mon-Sat 8a - 6p, Sun 11a - 6p


Lovington Recycling Center
1002 S. Commercial (Corner of Chaves and K Street)
575-396-4629, Mon-Fri 8a - 5p


Keep Hobbs Beautiful
575-397-9292
Utilities Online Bill Viewer

The City of Hobbs Utilities Department is installing a new Online Billing System. We are excited to bring this new product to our citizens and encourage each of you to take advantage of this streamlined billing process. You can currently register and view your bill Online.
Animal Adoption Center Website

We have added an area to the website dedicated to the new Hobbs Animal Adoption Center.

You can visit it here.
City of Hobbs 311

For all non-emergency concerns, please do not hesitate to contact the City of Hobbs by dialing 3-1-1

The 311 phone line is answered 8am -5pm Monday-Friday.
Parks & Recreation Recware

The new web address for the Parks & Recreation recware website is:
Citizen Observer

Hobbs Police will now send out information/alerts directly to the citizens of Hobbs through the use of the Citizen Observer Website.

Just go to www.hobbspd.com and click on "Sign up For Citizen Observer". You can sign up to receive text messages, emails, or both, anytime Hobbs Police Department sends out information to the public.
Complaint Line

Do you have a complaint? Please let us know by emailing complaints@hobbsnm.org

A complaint line is available from most cell phones and land lines - dial 311.

Or, call 397-4195.
What's New
Click the link below to download the agenda:
City Commission Meeting Agenda - September 8, 2015
City Commission Work Session Meeting Agenda - September 8, 2015
Newsletter
The Legal Notices page has been updated with new information.
[Click here] to read the changes
Click [here] to visit our Press Releases page.
Click the link below to download the PDF.