Welcome to the City of Hobbs web site! To contact us, please visit the City Directory or call (575) 397-9200.
To report technical errors on the website, please email webmaster@hobbsnm.org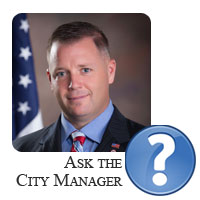 Voter ID Election Amendment

The Hobbs City Commission utilized their authority to choose one of three options to approve a resolution to the City's charter, proclaiming a special election in the City of Hobbs to determine if voter photo identification would be required for municipal elections.
Columbarium Dedication Ceremony
On July 14, 2014, the City of Hobbs participated in a dedication ceremony for the new columbarium at Prairie Haven Memorial Park Cemetery. Mayor Sam Cobb, Reverend Elios Barrios, and Reverend Juan Carlos Ramirez conducted the ceremony.
Municipal Court Fines payment reminder
Municipal Court Fines – 3 ways to pay! In person – 301 North Turner, Hobbs, NM, by phone with debit or credit card- 575-397-9272, or on internet at hobbsnm.org "Pay My Fine"
Leadership Training Program
Summer 2014 Parks and Recreation Guide

Check out this year's activity guide for art classes, pool hours, track meet, and more!
| | | |
| --- | --- | --- |
| Consumer Confidence Report 2013 | | |
Oil, Gas Boom Stokes Hobbs
The oil patch city of Hobbs in southeastern New Mexico, riding high on the energy boom, was the eighth fastest-growing "micropolitan area" in the country from mid-2012 to mid-2013, according to a recent report by the Census Bureau.

Hobbs, whose population grew by 2.9 percent over the 12-month period, was among cities in or near the Great Plains that dominated the fastest-growing lists of metropolitan and micropolitan areas.

A common thread among most of these cities was their connection to extractive industries, primarily oil and gas.

"The energy boom on the Plains ... (has) attracted job seekers from around the country," said Census Bureau Director John H. Thompson in a prepared statement in the report.
City Commissioners Oaths of Office
City Clerk Jan Fletcher administers the Oaths of Office to Joseph Calderon, Garry Buie, and John Boyd.
Hobbs, New Mexico Encourages Community Participation to Keep a Safe Community

Making sure a city stays safe may be a more complicated process than you think. A lot goes into making this happen and the officials and citizens of Hobbs, New Mexico, are doing an excellent job at ensuring their town is safe for both residents and visitors.
Parks & Recreation Save the Date 2014

Movies Under the Stars
August 22 - Frozen

Dog Daze of Summer - September 6
Bring your pooch to the pool for a howlin' good time. With a shot clinic, pet info booths, contests, and more, we guarantee a good time for you and Man's Best Friend!

Haunted House - October 24, 25, 31, and Nov. 1
Join us for a hauntingly good time! Our Haunted house of Horrors boasts the longest haunted house in town, with a real haunted house and orchard. All proceeds go to the Opportunity House of Hobbs & the Hobbs Teen Center Youth. No kids under 10 allowed. Yes, it's that scary!

Halloween Carnival - October 25
Join us at the Lea County Event Center for some creepy fun at the Halloween Carnival!


The City of Hobbs teams up with the Hobbs Schools for this fund raising event, providing safe games, costume contests, and more!

Fall Community Clean Up - August 9, September 13, October 11, and November 1
Haul your junk to the curb and we'll haul it off at no charge!

Light up the Night Decorating Contest
Decorate your house for this wonderful neighborhood holiday contest. Compete in various categories for cash prizes!

*All dates, times, and events are subject to change without notice.*
Hobbs Express
New Location: 424 West Broadway
Ride the bus routes or call 397-9290 to schedule a demand response ride.
Like us on Facebook
Click this link to visit the Hobbs Express Facebook page. Don't forget to Like us!
Register for CODERED

Lea County has instituted a new rapid emergency notification service called CodeRED®. The new system will distribute emergency messages via telephone to targeted areas or the entire county at a rate of 1,000 calls per minute. CodeRED® employs a one-of-a-kind Internet mapping capability for geographic targeting of calls, coupled with a high speed telephone calling system capable of delivering customized pre-recorded emergency messages directly to homes and businesses, live individuals and answering machines.
Quality of Life Master plan

The Lea County Recreation Master Plan is a quality of life and economic development initiative. Led by an unprecedented coalition of Lea County organizations, institutions and local governments, this effort is more than a recreation planning effort.

If implemented with vision and a spirit of collaboration and community, these projects can expand the identity of Lea County from an economic force to a business friendly and desirable community where people want to work, raise a family, and live a western lifestyle.

Single-handedly or in combination, these projects can be a catalyst for significant, positive change.
Business Services

Whether you're a startup or a returning business renewing your registration, the City of Hobbs wants to help you succeed. Your success enriches the entire community.

Explore the business resources on our website and learn about how your city can help you grow your gusiness.

Visit www.hobbsnm.org/business_services.html
How to report a street light outage

On-Line:
Go to www.xcelenergy.com

Then follow these instruction:
Click on New Mexico
Click on Report a Problem in the middle of the page
Click on Street Light Outages on the left side of the page
Under "Report Online": click on Report Streetlight Outage
Fill in required fields on form
Click Submit

Report by Phone: 1-800-895-4999
Wanted! All Recyclables!

Contacts, Hours and Locations:

Hobbs Waste Management Recycling Center
3000 E. Marland., 575-392-6571
Open Tues, Thurs, Fri 8a - 5p; Wed, Noon- 5p; Sun 10a- 3p

Hobbs Waste Management Recycling Bins
2608 Lovinginton Hwy, Mon-Fri 6a - 5p


Lea County Northern Transfer Station
40101 W. Hiap, Behind Halliburton, 575-391-2953
Mon-Sat 8a - 6p, Sun 11a - 6p


Lovington Recycling Center
1002 S. Commercial (Corner of Chaves and K Street)
575-396-4629, Mon-Fri 8a - 5p


Keep Hobbs Beautiful
575-397-9292
Utilities Online Bill Viewer

The City of Hobbs Utilities Department is installing a new Online Billing System. We are excited to bring this new product to our citizens and encourage each of you to take advantage of this streamlined billing process. You can currently register and view your bill Online.
Hobbs Visitors Guide

View the Hobbs Visitor Guide [here.]
Animal Adoption Center Website

We have added an area to the website dedicated to the new Hobbs Animal Adoption Center.

You can visit it here.
City of Hobbs 311

For all non-emergency concerns, please do not hesitate to contact the City of Hobbs by dialing 3-1-1

The 311 phone line is answered 8am -5pm Monday-Friday.
Parks & Recreation Recware

The new web address for the Parks & Recreation recware website is:
Citizen Observer

Hobbs Police will now send out information/alerts directly to the citizens of Hobbs through the use of the Citizen Observer Website.

Just go to www.hobbspd.com and click on "Sign up For Citizen Observer". You can sign up to receive text messages, emails, or both, anytime Hobbs Police Department sends out information to the public.
Complaint Line

Do you have a complaint? Please let us know by emailing complaints@hobbsnm.org

A complaint line is available from most cell phones and land lines - dial 311.

Or, call 397-4195.
Do you have an upcoming event announcement to make? Look no further!

Our electronic community bulletin board service is free of charge!

Click here for the bulletin board application form, contact information, and instructions, or call (575) 397-9335.